New Hires and Promotions
March 15, 2021
By: Lisa Perrin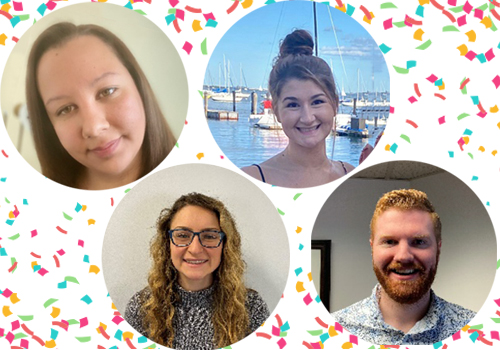 Lisa Perrin, President/ CEO of Worcester CU, is excited to announce recent promotions and to welcome aboard our newest team members to support our growth!
Arileyda Gonzalez, Risk/Quality Control Supervisor
Vanessa DiPilato, Relationship Services Supervisor
Kachaundra "KC" Stevens, Loan Servicing and Collections Representative
Marshall McDonald, Electronic Services and Operations Supervisor
---
Arieyda "Ari" Gonzalez joined Worcester CU in 2006 as a student intern at our Worcester Technical HS branch. After graduating high school, Ari accepted a full-time teller position, then she served as a BSA Specialist in our Operations Department for 5 years. After demonstrating her skill set and commitment to the credit union, Ari was just promoted to Risk/Quality Control Supervisor.
---
Vanessa DiPilato joined Worcester CU in 2019, starting as a full-time teller. Prior to Joining Worcester CU, she was a Universal Banker with Citizens Bank. Since joining the Worcester CU team, Vanessa has exhibited leadership, commitment, and an overall eagerness to assist members, whatever their needs may be. These traits led to her promotion to Relationship Services Supervisor.
---
Kachaundra "KC" Stevens has over 8 years of banking experience and she holds a Bachelor of Arts Degree in History from Worcester State University. She was a Commercial Loan Administrator for Millbury Savings Bank for 4 years before being promoted to Commercial Credit Analyst I, when they merged with bankHometown in 2019. KC recently joined Worcester CU and she has already made an impact helping our delinquent borrowers get back on track during these challenging times!
---
Marshall McDonald holds an Associate's Degree in Business Administration plus he has 10 years of banking experience with both retail and operational responsibilities. He comes to Worcester CU with strong interpersonal and leadership skills and a "members first" approach dedicated to helping each member achieve financial success!
---
Please join me in congratulating both Ari and Vanessa on their promotions and wishing KC and Marshall success in their new roles!
Lisa Perrin, President/ CEO of Worcester CU
View all posts